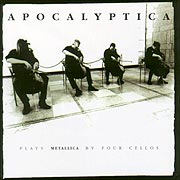 1. Enter Sandman
2. Master Of Puppets
3. Harvester Of Sorrow
4. The Unforgiven
5. Sad But True
6. Creeping Death
7. Wherever I May Roam
8. Welcome Home (Sanitarium)

Review

This albums was the starting point for Apocalyptica. Completely Metallica covers, it is the best selling Metallica covers album ever.
Eicca says that Apocalyptica was trying to find their sound with this album. I think they did a good job of trying. All these songs are full of energy, and, sound very close to the originals (moreso that I thought they would).
Most of the covers are from Metallica's "Metallica" (aka. "Black Album" because of it's monochrome cover). But I was glad to see that "Master Of Puppets" was one of the covers.